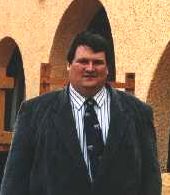 VOTE TO RE-ELECT
THOMAS RANDALL
MEMBER, YOLO COUNTY REPUBLICAN PARTY
CENTRAL COMMITTEE,
4TH SUPERVISORIAL DISTRICT

QUALIFICATIONS AND EXPERIENCE:
Employed as a Research Assistant for the Davis Almanac Book Publication Project 1998-2000
Notary Public
Regular Member of the Central Committee 1989-93 and 1997-present terms
Alternate member of the Central Committee 1991-93
Historian of the Central Committee 1991-93 term
Assistant Secretary of the Central Committee October 4, 1999 to January 8, 2001
Education Chair of the Central Committee (mid-term replacement) from November 1, 1999 until January 8, 2001.
and has unofficially held that position since January 8, 2001.
Associate Member, State Republican Party Central Committee, 1985 to the present
Attended four (4) Republican Party National Conventions and several regional conferences including the Western States Republican Leadership conferences in 1995, 1997, 2003 and 2007.
Member and Historian, Young Republicans of Yolo County 1987-89
Member and Secretary, Young Republicans Federation of Yolo County 1999-present
Founding Member and Temporary Chair, Grand Order of Pachyderms, Yolo County Chapter 2003 to 2004.
Voter Vault Precinct Captain, Davis Precinct #88
A resident of Yolo County (Davis) since 1973
Graduate of Davis Senior High School and of Excelsior College, Associate (AA) and Batchelor of Science (BS) Degrees.

ACCOMPLISHMENTS:
Contested Central Committee Elections: Since 1990, has been influencing prospective candidates to seek election to the Central Committee by publishing materials that inspired the emergence of candidates.
Headquarters Location Development: In 1996, conduced potential headquarters exploration activities by surveying sites in Davis and Woodland and publishing an analysis that resulted from such activity before the central committee. I have even advocated the committee open a West Sacramento headquarters, which in the general election campaign it did for the first time in recent memory, serving the political needs of the party in a part of the county that had been neglected by the committee's efforts for many years.
Advocated an alternating Committee meeting and event venue schedule: Since, 1991 has advocated an alternating venue schedule for committee meetings and events, an idea that has eventually been adopted by the Committee by alternating meeting and event sites in the cities of Davis, West Sacramento, Woodland and Winters thereby giving Republicans residing in the outer areas of the county greater access to participate in committee activities.

PROPOSALS FOR A MORE FUNCTIONAL AND SUCCESSFUL LOCAL REPUBLICAN CAMPAIGN EFFORT: SUPPORTS LIAISON ACTIVITIES BETWEEN THE CENTRAL COMMITTEE, OTHER REPUBLICAN PARTY ORGANIZATIONS AND THE ELECTORATE: For the committee to be functionally effective in its efforts to promote the election of the party's nominees, I have advocated the following ideas and will continue to seek their implementation::
CANDIDATE FORUMS:- To provide the party membership with the means to question and screen candidates for partisan and nonpartisan office. I have advocated the conduct of such events since 1991. The committee is now starting to follow suit having recently held two such gathering' as part of the central committee meetings. To further enhance the conduct of such gatherings, I would advocate the conduct of such gatherings in an extended format, such as part of a conference or a separately conducted event, which I now incorporate into the activity program of the Grand Order of Pachydems Club, Yolo County Chapter.
THE DEVELOPMENT OF INTERNET COMMUNICATIONS FOR PARTY ACTIVITY: I have advocated a website for the local party to provide information on candidates, activities and other matters of interest to Republicans. I have also advocated the acquisition and use of e-mail and fax to improve and expand communication within and local organization and with state and national party organizations.
ORGANIZING EVENTS: Unfortunately the committee's efforts seem to have been focused too narrowly on fundraising events. The committee should sponsor a wider range of events, especially organizational efforts which will have a greater effect on the entire campaign. Such organizational events should include the idea suggested by some members of the local CRA for a local party summit, that is an extensive local party meeting between the various local Republican organizations, including the California Republican Assembly, Congress of Republicans, the U.C.Davis College Republicans and the Young Republicans Federation. I have long advocated an All-Day Conference in support of the concept of such meetings.
FORGING EFFECTIVE WORKING RELATIONSHIPS BETWEEN CANDIDATES AND OTHER RE PUBLICAN PARTY ORGANIZATIONS: Too often internal dissension has undermined the effectiveness of the local party in election campaigns, problems which often arise from poor communications between candidates' campaigns and the party and a lack of willingness between differing factions in the local to negotiate reasonable solutions to such disputes. Philosophical differences aside, the committee should strive for some solutions that can produce more unity and common effort within the party. The extended meeting format suggested above could do much to allow us to air our differences constructively and seek common goals.
LOCAL PARTY CANDIDATE RECRUITMENT: I have published many materials to influence local candidate recruitment and have served in an active capacity on the candidate search subcommittee.
THANKS FOR YOUR CONSIDERATION.
I WOULD APPRECIATE YOUR VOTE ON
TUESDAY, JUNE 8, 2010..
Thomas Randall, Jr.
FOR FURTHER INFORMATION ON THE CANDIDATE OR TO CONTRIBUTE TO THE CAMPAIGN PLEASE CONTACT THE CAMPAIGN AT:
THOMAS RANDALL FOR CENTRAL COMMITTEE
P.O. BOX 1076,
DAVIS, CA 95617-1076
TELEPHONE: (530) 756-0874 FAX: (530) 759-1996 E-MAIL: colemanrandall@comcast.net