Yolo Atari Club Information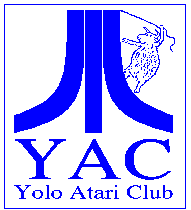 **YAC -- THE YOLO ATARI CLUB **
YAC is an organization of Atari users and is not affiliated with Atari Corporation.
YAC provides many services for its members, including:
Low dues -- just $8 per year!
A monthly newsletter mailed to member's homes (bi-monthly beginning Jan., 1997).
Our monthly disk of freely-distributable software for just $1.
Access to our freely-distributable software library.
Access to our magazine back-issue library.
YAC provides services to the world-wide Atari Community:
We are creating what we hope will be a useful information resource on the World-Wide Web.
We sponsor an annual freely-distributable software programming contest.
We have translated many excellent German programs to English.
More to come!
YAC may be contacted in many ways:
---
[Back To YAC Home Page]